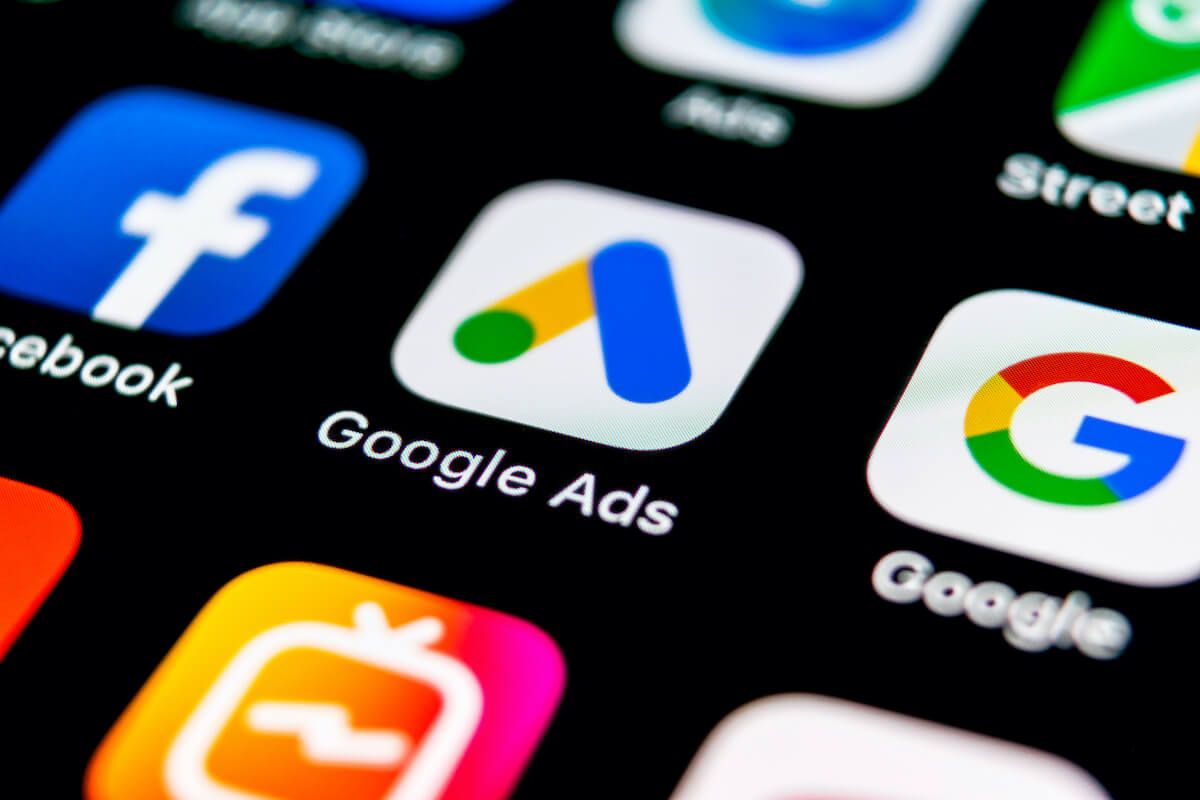 Ecommerce businesses that are ready to advertise their products online face a tough challenge: reaching an audience that would actually be interested in their products AND capturing their attention. This is especially difficult considering the current landscape, where competitors are trying to outbid each other for the same areas of digital real estate at every turn. Below, you'll find some helpful insights into modern digital advertising initiatives that can help you choose the right mix for your business.
Popular Advertising Options
The first step toward building a solid ecommerce ad strategy is knowing and understanding your options. While there are many places your ad dollars can be spent, the most strategic move is to advertise through the platforms your target audience is already using. In general, this tends to be Google and the social media giants. Here are a few of the most popular (and success-driving) digital advertising options:
Facebook/Instagram Ads
Suggested minimum monthly ad budget: $500
Facebook and Instagram ads are a combination of visual and text advertising that target users scrolling through Facebook and Instagram. These ads are easy to A/B test. To get the best results, test messaging, visuals, and even colors of ads to see which deliver the best results.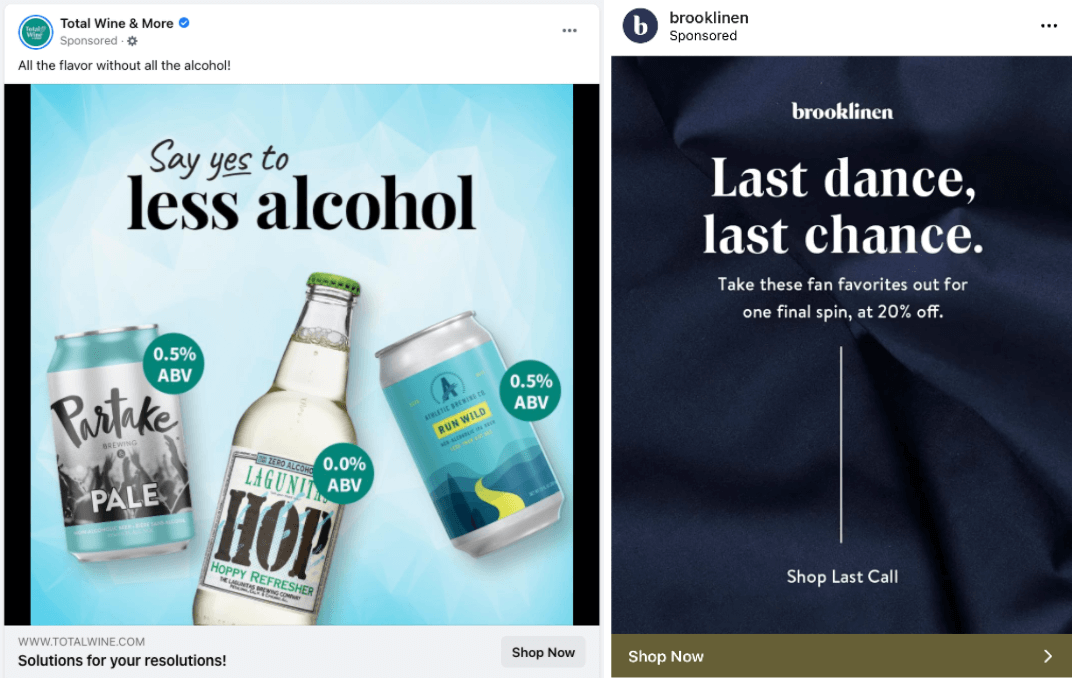 Example of a Facebook Ad and an Instagram Ad.
Google Search Ads
Suggested minimum monthly ad budget: $750
Search ads on Google (or Bing,if you prefer) show up when shoppers are actively searching for your products. These text ads appear on the main search results page as a headline and minimal copy, giving you a chance to tell people why they should buy from you and click through to your ecommerce site.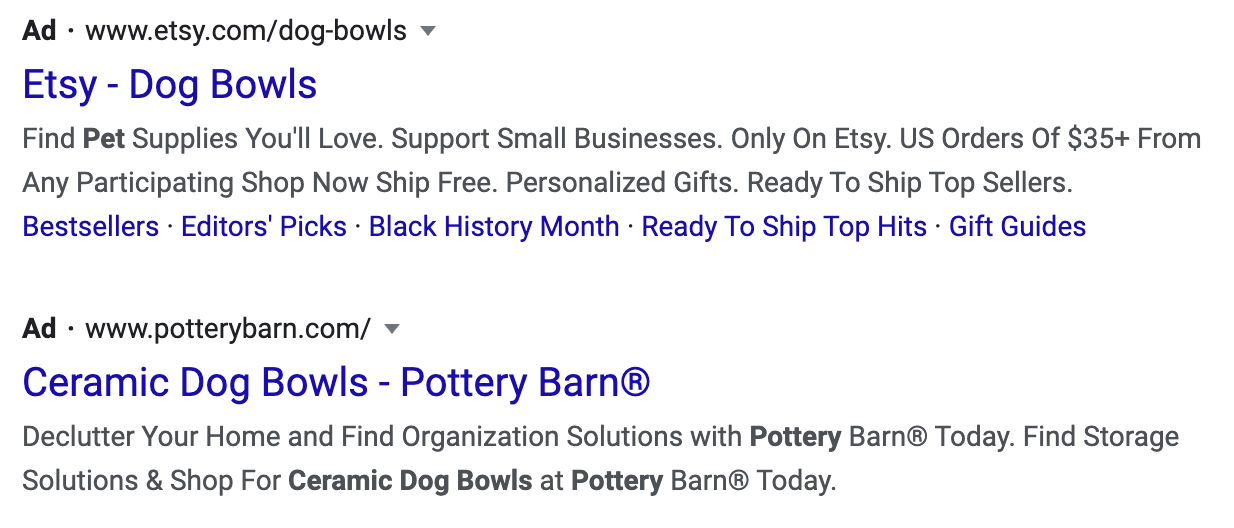 Example of Google Search Ads.
Google Shopping Ads
Suggested minimum monthly ad budget: $500
Shopping ads are similar to search ads in that they appear when shoppers are actively searching for your products. However, the format of these ads is different in that they show the product image, price, and name. If your products are competitively priced, Google Shopping ads are a must for any ecommerce store.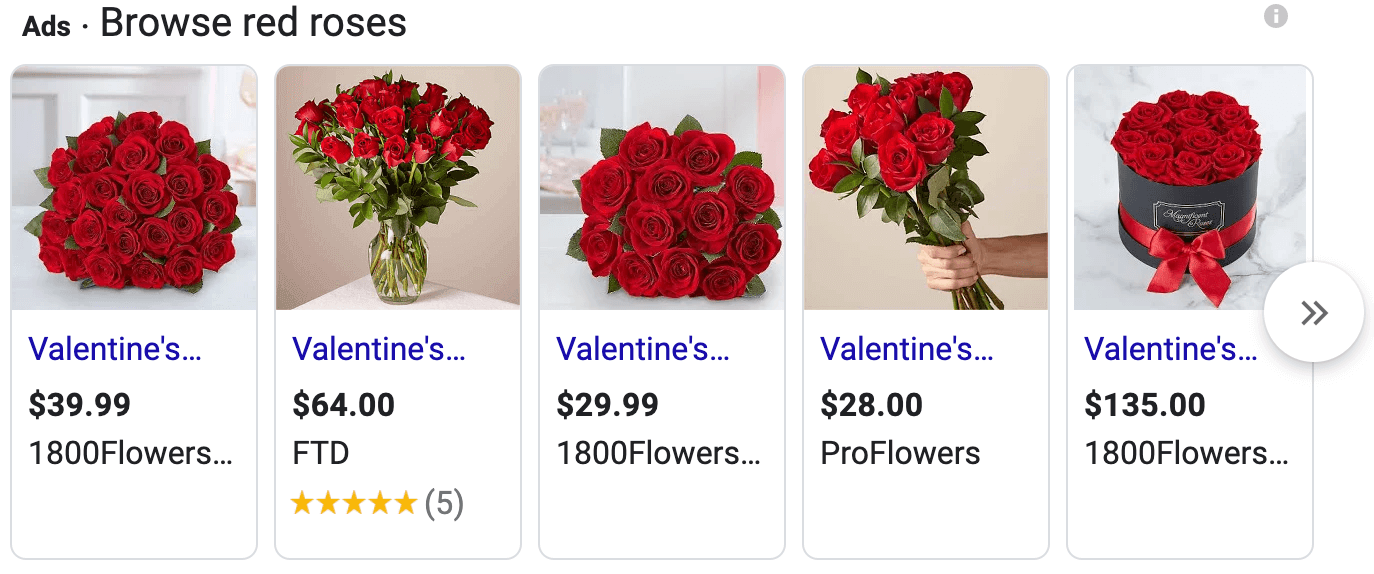 Example of Google Shopping Ads.
Google Remarketing Ads
Suggested minimum monthly ad budget: $200
Remarketing ads can be effective for many businesses, especially if you sell products that have a longer buying cycle like furniture or other higher-priced items. These remarketing ads "follow" a user around the internet, showing ads to people who have visited your site before. This strategy reminds them to come back to your site and purchase the items they were considering.

Example of a Google Remarketing Ad.
Other Options
Depending on where your audience spends most of their day, other options like Twitter Ads, LinkedIn Ads, Reddit Ads, or others may be helpful for your business.
Where to Invest
Any of the options above can be effective advertising channels for ecommerce businesses. As long as you know your products and audience and are thinking about where you want to reach your customers, you can't go wrong.
If you have a large budget, you can test all of these channels out at once. However, if you have a smaller budget, you can still test out a few channels at a time to start. Once you've set up your ads, make sure you learn best practices and run A/B tests to determine whether they are working for you. If you try a channel for several months and it isn't working, switch to a new one to see if it works better.
When you find channels that are working well, consider shifting your budget to those channels so that you are getting more for your money. Look at metrics like conversion rate, cost per sale, and ROI to determine which channels are performing the best for you. Understand the analytics behind each advertising channel, and make sure you have conversion tracking set up properly so you can measure the success of your efforts.
In Conclusion
Measure, know what's working, and have a game plan for revisiting strategies. If you're concerned about handling online advertising yourself, hire out help. It's hard to be an expert in everything, so know where your strengths are and partner with an agency or hire employees to be the experts in areas where you are not.