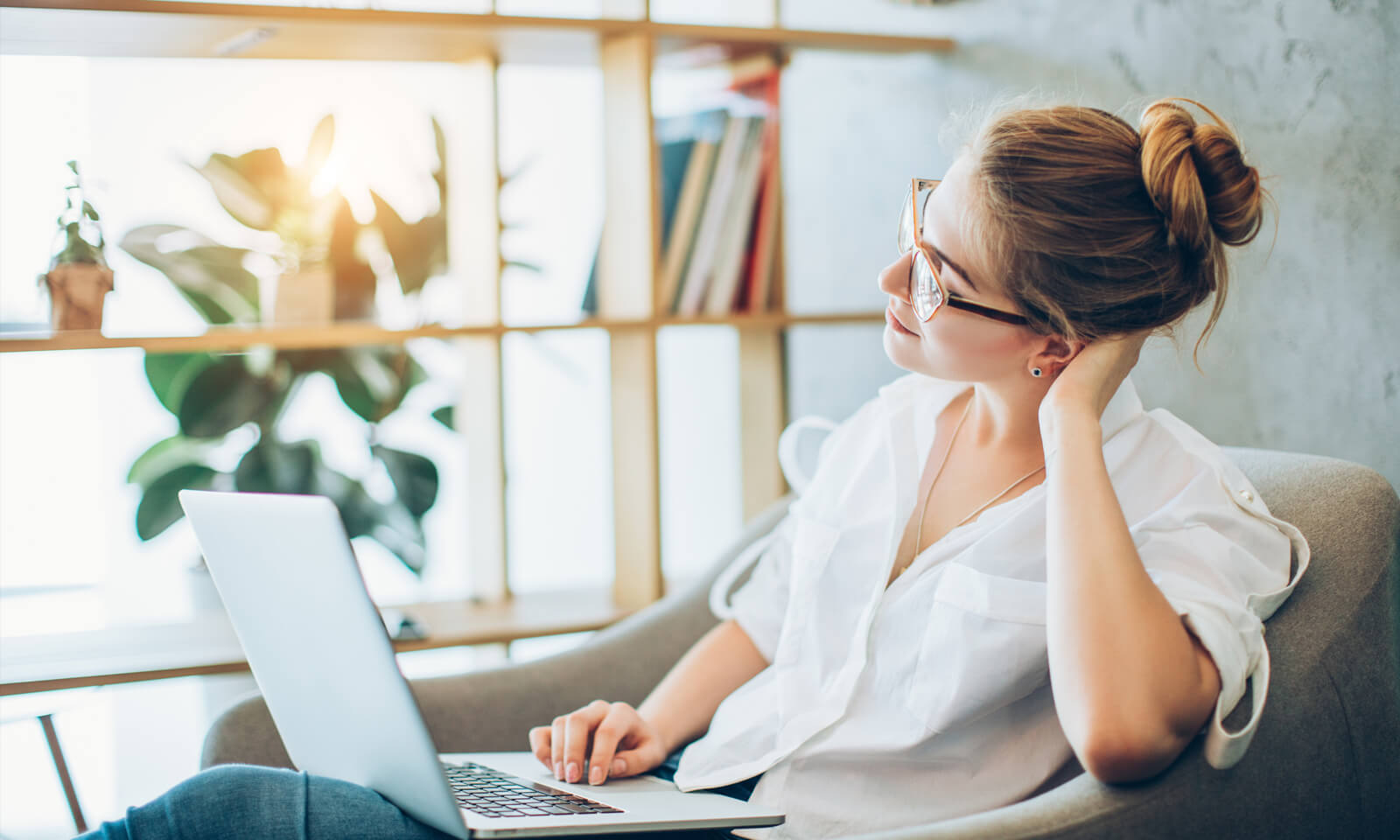 In the world of ecommerce, conversion rate is an important metric that you should constantly be aware of. But a purchase from your store means more than just a sale: it's often a step-by-step process that consists of multiple, equally important steps. Here we cover the key stages of the buyer's cycle and look at how they can be optimized individually for your store.
The Ecommerce Sales Funnel
In a buyer journey, each stage is connected to others and is crucial for overall success.
These are the common stages associated with the ecommerce industry sales funnel:
Awareness: At this stage, your primary goal is to attract a potential prospect for your store.
Interest: At this stage, a customer shows an intent to buy a product or performs actions that lead to a purchasing decision.
Desire: This is where the customer has decided to purchase your product, but has not yet completed a transaction.
Action: This is where the customer makes a purchase.
Retention/Advocate: At this stage, an existing customer makes another purchase or encourages others to make a purchase. This stage is also considered as the retention stage, as the customer makes repeat purchase(s).
If we can optimize for each stage, we stand a better chance of achieving an overall higher conversion rate.
So, let's look at each stage and find out what needs to be addressed:
1. Awareness
Goal: To provide enough information to your audience that it can pique their interest and attract them to your store.
How do you attract buyers?
There is a set of things that you can follow to increase awareness about your business:
Using Lead Magnets and Clear Calls-to-Action
The first question that needs to be addressed is about using lead magnets. How are you going to make sure that you can gather actionable data about your visitors?
Studies show that you have 15 seconds to grab a prospect's attention and tie your prospects to your store or you risk losing them forever.
You might be thinking what can you do to make a visitor stick to your website after that 15-second barrier.
You should start with displaying the best offers on your online stores. The best-selling websites use lead magnets like exit-intent pop-ups and sliders; highlight discounts; have smooth navigation that makes product and feature search easy for visitors; and most importantly, have a clear message that instantly connects with visitors.
Even then, if your visitors decide to leave, entice them with an offer or try to extract any sort of information about them so that you can reconnect with them in the future.
Social Media
Social media is one of the most tapped avenues for ecommerce businesses. Successful online stores use social media to attract users, engage with them, as well as improve their sales.
Social media goes beyond just scheduling updates and promoting various offers. Its efficiency is gauged on how much engagement you have generated through social media platforms and how many of these engagements have led to sales.
To get a good idea of social media in action, let's examine Southern Fried Chics, a clothing site.
The brand's social media game is on-point. Being an apparel-based ecommerce venture, they base their social media strategy toward promoting different "looks," based on events, seasons, and emotions.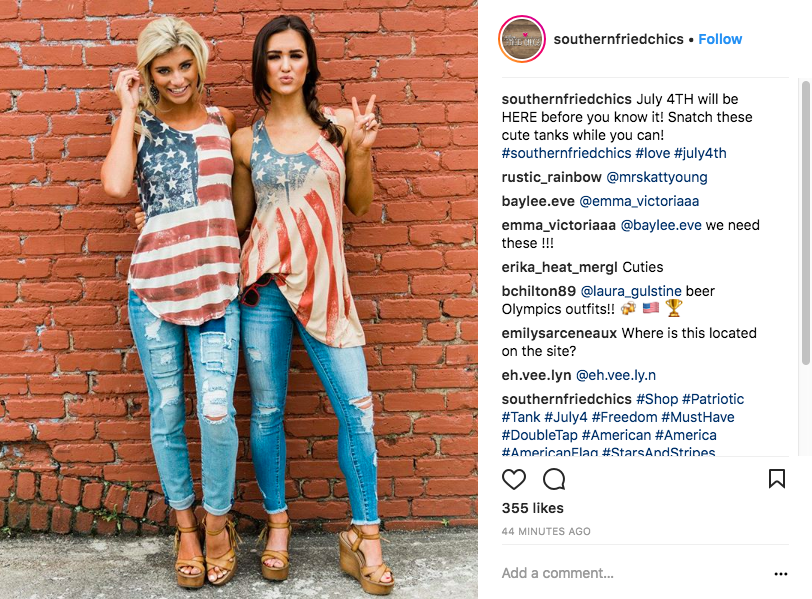 Their savvy use of colors and styling has led Southern Fried Chics to earn 175k+ followers. A well-curated feed is a key to social succes!

Advertising

Online advertising is an easy decision. When you are trying to create awareness and attract customers, online advertising is one of your primary weapons.

There are different versions of online advertising you can benefit from:
PPC Campaigns: Pay-per-click (PPC) advertising is one of the earliest forms of advertising, where the advertiser pays a publisher a designated amount whenever someone clicks the ad. Google AdWords, Facebook, and LinkedIn PPC are the prime examples of PPC providers.

Retargeted Campaigns: Retargeting is an effective advertising strategy, best utilized by brands like Amazon. It shows you ads about the product or website which you have visited sometime before, ranging from an hour to a few days. Google, Facebook, Twitter, and LinkedIn are the major brands that help you run retargeted campaigns.

Mobile Advertising: As the name suggests, this is advertising on mobile phones, mostly through apps that deliver advertisements. At times, a few third-party application repositories also promote ads.
Partnering with Influencers
A new form of attracting and creating brand awareness is partnering up with influencers, especially on social media.
The uniqueness of this proposition is that you enter the stream of influencers who already have a trusted radius of followers. Advertising with these influencers requires proper planning and an offer, which are benefiting both parties.
2. Interest
Goal: To provide ample information to your visitors such that it reinforces their intent to buy the product.
At this stage, the visitor has shown a preference for your product. It's the stage where visitor mindset is still volatile and hence you need to address their uncertainties in the best way possible.
Boosting customer confidence and intent
There is a set of methods that you can implement on your ecommerce website to boost a customer's confidence:
Optimize your product and category pages
A lot of ecommerce ventures tend to face this problem. Product and category pages with incorrect information or with a lot of information tend to be overlooked.
Finding the right balance between an information piece and its product depiction is imperative for grasping customer intent.
Delve into your customer journeys and funnels, and find which pages are acting as detractors and which pages are perfect for your visitors. Based on these recordings, optimize your product and other pages.
Evaluate Your Value Proposition
The right method to frame your product's value proposition is to put yourself in the shoes of your customers and think on the following lines:
What does the product provide me?
What are the benefits?
Why should I consider your brand instead of your competitor's?
For every transaction between you and your customer, you are expected to deliver something that fulfills your customer's need or desire.
Back your value proposition with:
Clarity: Showcase what the product is intended to do, and make sure your ideal prospects understand everything relevant to them about the product.

Appeal: Back your product in a way that it reinforces the intent of the reader. It could be by highlighting the uniqueness of the product, features, abilities, and so on.

Exclusivity: This quality has to do with the product's brandability and how it stands out from the rest. Look at a highly successful brand, for example, H&M, a brand that is synonymous with teenagers. The brand promoters understand this mindset and hence align their marketing strategy around young adults and teenagers.

Credibility: More than any of the above, a customer can be confused with various opinions. Be sure to back your product's value proposition with testimonials and positive user reviews.
Optimize Your Forms and Website Navigation
Another key detractor at the intent stage for your prospective customers can be forms and website navigation, which don't serve their purposes.
When addressing Forms, try to adopt a minimal query approach. Ask your customers to fill up a form only when necessary. As showcased in this case study, sign-up forms can be done away with, which can improve the conversion rate.
Instead of asking for details up front, add forms on the checkout page, and also allow guest checkout that asks for the name, address and email address, rather than forcing a user to sign up.
You can also ask customers to sign up after they have placed their order, through an email.
Now, let's talk about the navigation bar. It consists of pages that are visited mostly on your blog. For an ecommerce website, it's imperative to have a navigation bar that addresses this situation.
Rather than having a standard navigation, dig deeper into your website's analytics, implement heatmaps and audience flow monitoring tools, find which are the most visited pages on your blog, and redo your navigation by adding links to these pages. This will make the page more relevant for your incoming traffic and for your existing set of customers. One of our clients did the same and achieved a 20% increase in their conversions.
Feed them with relevant offers
By this stage, you'd have some information about your customers. Use this information to provide relevant offers to your customers.
Your customers are still not ready to buy from you at this stage, but they have ample curiosity. So, offering them relevant product recommendation and discounts might help you take them forward.
This is called nurturing your prospects.
Amazon does it well. It watches its customer's journey carefully. Based on this information, it sends out emails and focused ads that consist of relevant products and offers.
For example, I just started running a new year resolution for 2018. I had to buy a few gears related to running, so I checked out websites such as Amazon, Nike, and Under Armour.
The next day, I got the email below in my inbox. This email took the data from my last search on Amazon and gave me a plethora of product recommendations.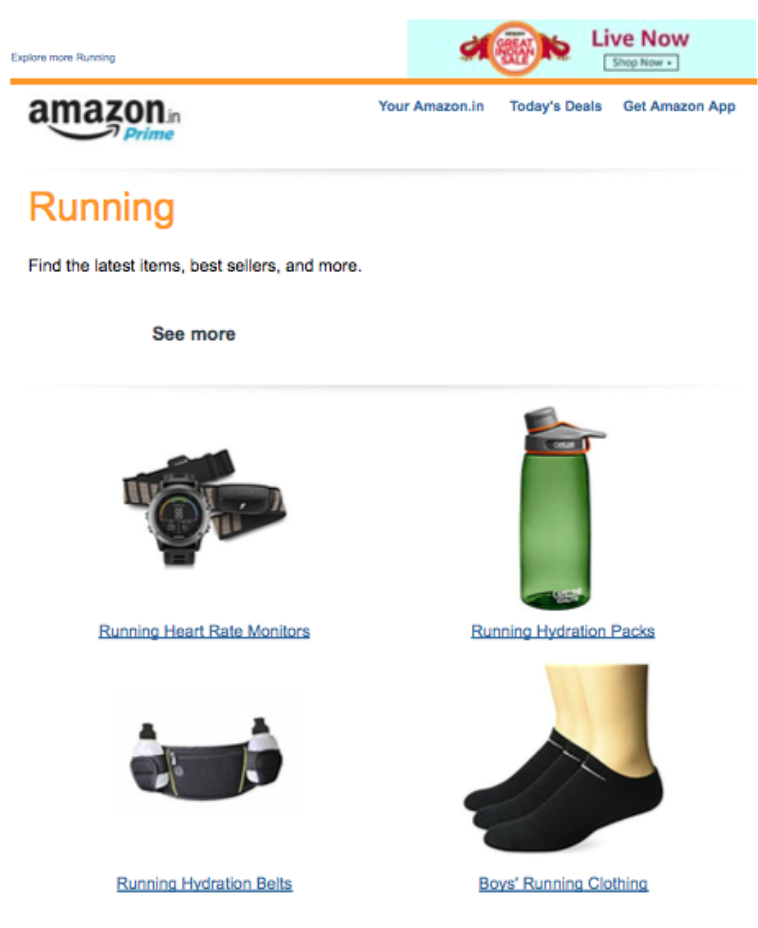 Now, when I click any one of the products here or go back to Amazon, it takes me to the next stage.
3. Desire & Action
This is it! The stage where your customer finally makes up his or her mind to buy the product from your website. This is the phase where you need to make the experience as flawless and seamless as it can be.
You might have a premonition that your product is impeccable. Anyone who buys from you gets hooked to your product and comes back repeatedly. But as a business owner, you can't leave any page unturned.
Here are the things that would need your attention:
Have a seamless checkout experience.
Use personalization.
Back up your products with honest reviews and customer feedback.
Use push notifications and email reminders.
Use A/B testing.
**Have a Seamless Checkout Experience **
Your checkout experience is vital to the sales of your product. Leave no stone unturned here. Common mistakes like non-declaration of shipping charges and hidden costs like taxes can break your checkout flow. Mention all these charges on the product listing page itself so that there are no surprises for them during their journey. Here is a detailed guide on the anatomy of a perfect checkout page. Be sure to check it out before optimizing your checkout process.
Use Personalization
Personalizing your pitch to your prospective customers would make them feel valued and provide them with a unique 1:1 experience. Here is an article that showcases how personalization has led to immense increase in product and services sales.
Back Up Your Products with Honest Reviews and Customer Feedback
Product reviews and feedback from buyers help a lot in convincing prospective buyers to make a purchase. Showcasing reviews and feedback on the product pages can impact your sales cycle positively.
Use Push Notifications and Email Reminders
If customers are abandoning their carts on your site, you can remind them that they can come back and resume the purchase. You can leverage push notification and email marketing platforms to do so.
Use A/B Testing
If you find that there is a decent amount of fallback during the checkout process, it's time to A/B test and monitor your checkout flow. By creating various variations of the original checkout flow, you can find out what the problem is and which variation can improve it.
Remember that at this stage, it's important to push for sales. You have executed all other aspects that led to the purchase stage. If you are not pushing for sales now, you may lose your prospective customers.
4. Retention or Advocation
As an ecommerce venture, we are looking toward building a relation with our customers. An ideal scenario is when a customer purchases from your website on a regular basis. To maintain such a relation and encourage your customers to repurchase from your ecommerce website or recommend your product to a friend, here are a few ideas that you can follow:
Implement a customer loyalty program
Developing a customer loyalty program that would reward customers for every repeat purchase can be useful. Such programs may encourage your existing customers to make repeat purchases.
To implement a loyalty program, it is important to set an attractive offer structure. This structure is easy to figure out by looking at your historical data of your average order value.
One of the prime examples of a loyalty program is Starbucks' customer loyalty program, which has thousands of active customers. The program has 3 levels with people constantly gunning for the top level.
The program became huge, and it made huge strides on social media. People would share their gold level (the topmost level of the program) upgrades on Twitter, Instagram, and Facebook, and that would bring in more people into the program.
Use Email Marketing
Your email list is critical for maintaining and building a healthy relationship with your existing customers. Email marketing has proven year after year that it is the obvious choice to resell to existing customers.
When Statista did an email survey for the year 2016, 91% marketers agreed that email marketing is a critical part of their marketing efforts.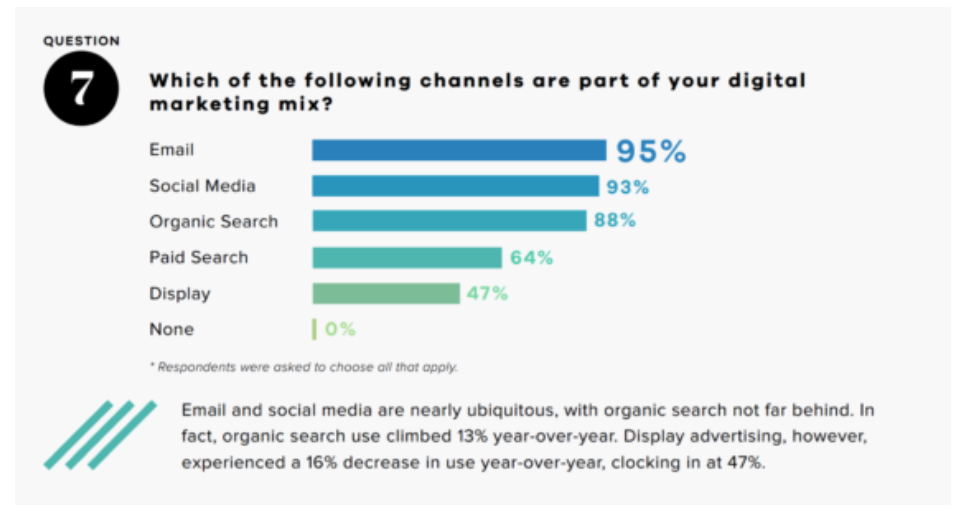 In addition, here is a distribution of conversions based on various communication channels: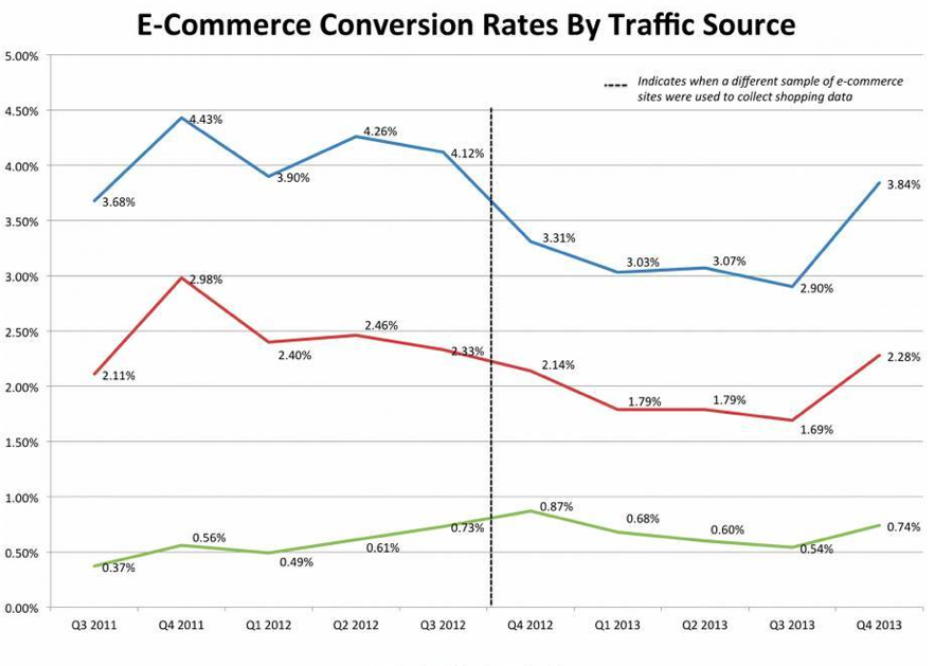 Email marketing comes at the top. There are a variety of email marketing platforms that you can choose from such as MailChimp, Drip, Campaign Monitor, and ActiveCampaign.
Interact with your existing customers on social media
Social media for brands and businesses is about promoting their products and highlighting what they have to offer. But what better way to cultivate a relationship with your existing set of customers than social media.
People who are chosen to "like" or "follow" your brand on social media tend to have a reason behind it. A lot of people mention and tag brands on their social media profiles, especially on public social platforms like Pinterest, Instagram, and Twitter.
A prime example of building a social media following that wows existing customers is that of Google's Pixel team. Google Pixel phones are rated as the best camera phones.
Google started the #TeamPixel trend on Twitter and Instagram. On a weekly basis, a team at Google promoted photographs clicked by Pixel users on Google's Instagram storyboard. This created a huge following for the Pixel phones. When the second iteration of the Pixel came out, they sold out faster than the former.
Google took a page out of Apple's #ShotOniPhone campaign, which took user-shot photos and built billboard in some of the biggest cities in the world.
Offer Discounts to Encourage Repeat Purchases
At times, discounts can be an effective trigger to bring back your customers, especially the ones who might be dormant. Even small discounts can go a long way, like a 10–15% discount on their next purchase. These discounts make the offers more tangible and encourage your prospective customers to make reasonable purchases.
Conclusion
The beauty of a buyer's journey is due to its cyclic form. Improvement at one stage directly impacts the progress of other stages as well. Therefore, it is imperative that in the ecommerce vertical, we take each stage at par when it comes to goal completion and conversions.
**Do you think we missed something here? What has been your take on buyer's journey? Let us know in the comments!
**