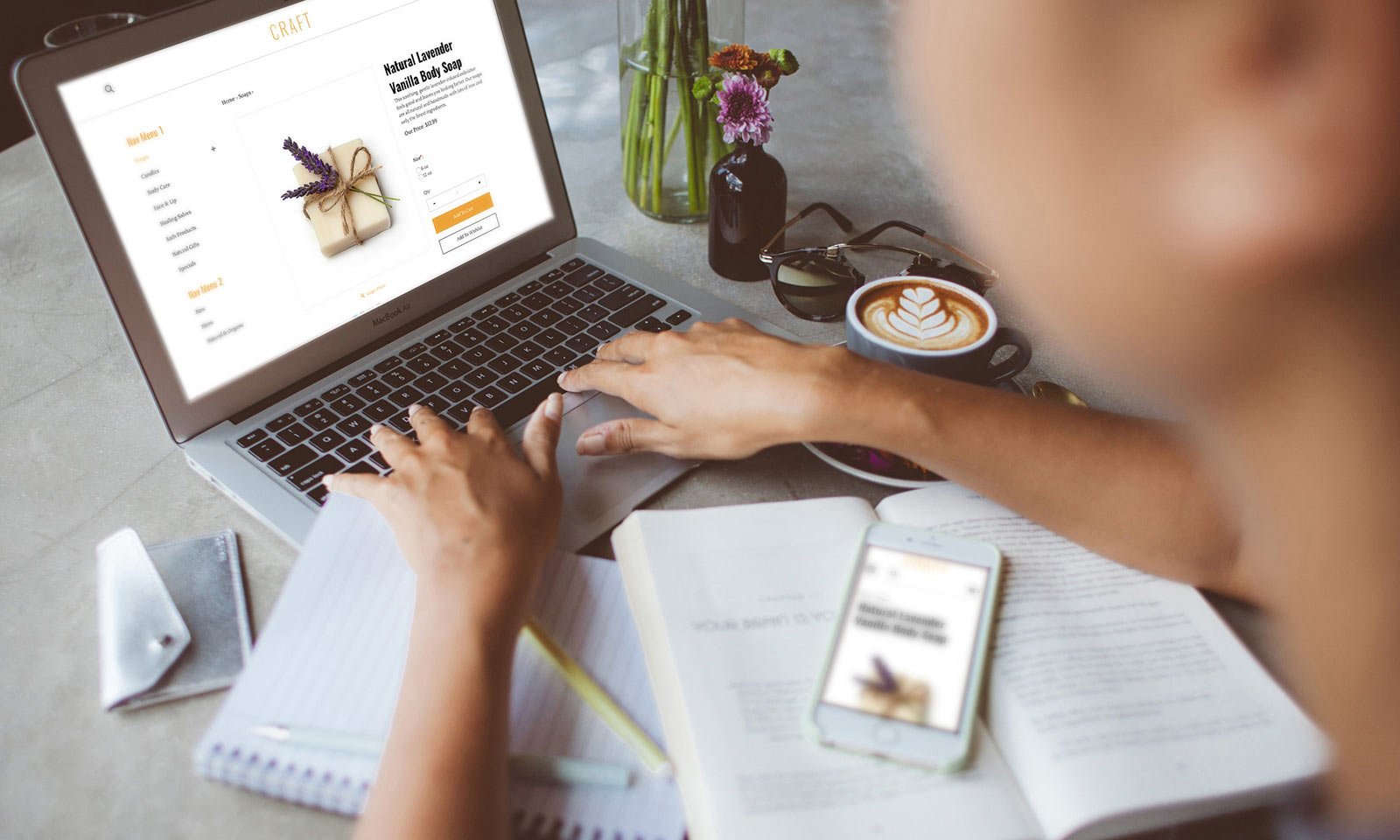 Product descriptions can make or break a sale. While they can be easy to overlook, choosing the right set of words, lingo, or images to include on your product page can compel even the most skeptical of customers to make a purchase.
Here's a look at some great product description examples (and why we love them).
Oransi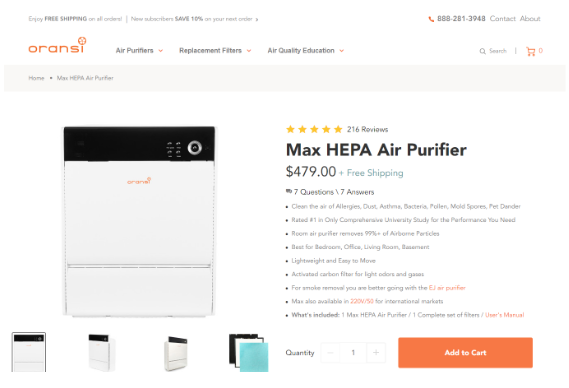 Product Description:
Clean the air of Allergies, Dust, Asthma, Bacteria, Pollen, Mold Spores, Pet Dander
Rated #1 in Only Comprehensive University Study for the Performance You Need
Room air purifier removes 99%+ of Airborne Particles
Best for Bedroom, Office, Living Room, Basement
Lightweight and Easy to Move
Activated carbon filter for light odors and gases
For smoke removal you are better going with the EJ air purifier
Max also available in 220V/50 for international markets
What's included: 1 Max HEPA Air Purifier / 1 Complete set of filters / User's Manual.
Why we love it: Not only does Oransi lay out the product's key information in easy-to-read bullet point format, they also provide a very helpful Q&A section that answers basic questions about the product directly from the Oransi store owners.
Game Bibs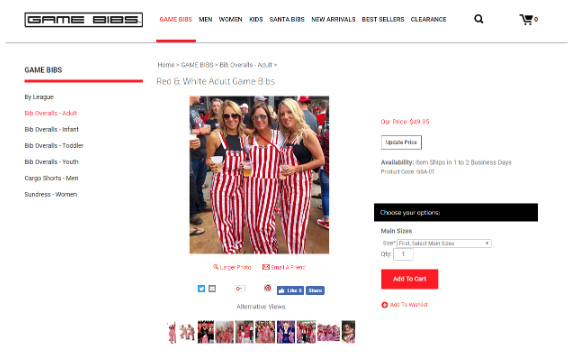 Product Description: Cheer on your favorite red and white team in eye-popping style with these red & white striped game bib overalls! Each pair is made of 100 percent cotton for a comfortable, breathable fit regardless of the weather and includes easily adjustable shoulder straps for fans with long torsos. Whether you're on rickety bleachers on a Friday night or trying to get on television at the Sunday morning tailgate, our red & white striped game bibs will make you stand out in the crowd and leave an impression. These particular bib overalls are also great as casual Clauswear for any Saint Nicks who might be taking in a game during the holiday offseason!
Why we love it: Gamebibs doesn't spend a whole lot of time on the fabric composition of their colorful merch; however, they do show real, actual people using it in their product photos and present helpful use cases in their product descriptions. It's not a strategy that every ecommerce store can use in product descriptions. UGC — user generated content — is hard to develop organically, but if you've got a strong brand and appeal to folks who utilize social media — like college football fans — then it can be a great asset to your product pages.
Model Roundup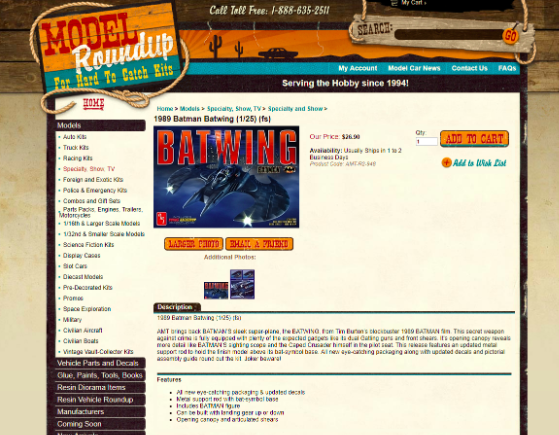 Product Description: AMT brings back BATMAN'S sleek super-plane, the BATWING, from Tim Burton's blockbuster 1989 BATMAN film. This secret weapon against crime is fully equipped with plenty of the expected gadgets like its dual Gatling guns and front shears. It's opening canopy reveals more detail like BATMAN'S sighting scope and the Caped Crusader himself in the pilot seat. This release features an updated metal support rod to hold the finish model above its bat-symbol base. All new eye-catching packaging along with updated decals and pictorial assembly guide round out the kit. Joker beware!
Why we love it: This product description is a great example of a niche product description that does a really, really good job of talking the talk to their customers, who are most likely Batman enthusiasts to the nth degree. By including specific details and demonstrating their deep understanding of the Batman canon, they're developing trust and building rapport with new and returning customers.
Hillbilly Stills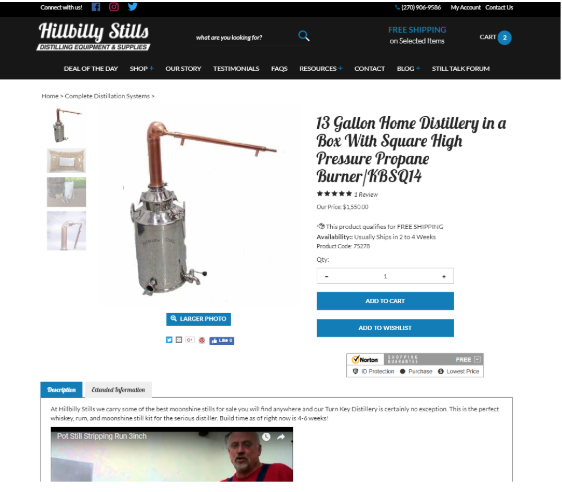 Product Description: At Hillbilly Stills we carry some of the best moonshine stills for sale you will find anywhere and our Turn Key Distillery is certainly no exception. This is the perfect whiskey, rum, and moonshine still kit for the serious distiller. Build time as of right now is 4-6 weeks! The boiler included in this still kit comes with a ball valve drain on the bottom and the top opens to a 3'' inch neck. The 3'' pot still easily attaches to the boiler with an included tri-clamp. With the proper permits this moonshine still can make the product of your choice. Whether you're doing a single run whiskey and rum or a double run for moonshine this still will do the job. Why attempt to build a still yourself when you can purchase your very own professional grade still from Hillbilly Stills that functions as well as it looks? We welcome micro distiller businesses or the most demanding craft distillers to try our moonshine still. You will love this setup, we guarantee.
Why we love it: Hillbilly Stills' descriptions help you to imagine owning their product with statements like, "whether you're doing a single run whiskey and rum or a double run for moonshine this still will do the job". The company also mentions all of the bonus items included with the purchase of a product, which is always a big selling point for customers. By also noting the products various usage options, this description lets buyers see just how multi-faceted this wine barrel is. The product itself is unique and interesting, so Hillbilly Stills doesn't need to rely on gimmicky sales pitches in their descriptions.
Hot Miami Styles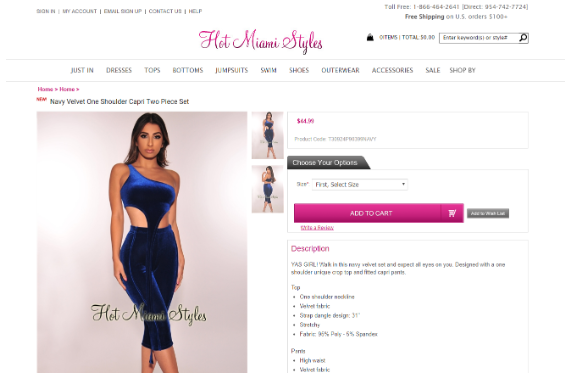 Product Description: *YAS GIRL! Walk in this navy velvet set and expect all eyes on you. Designed with a one shoulder unique crop top and fitted capri pants. *
Why we love it: Hot Miami Styles really knows who they're targeting. By starting out their product description with "Yas Girl!" they're showing that they're part of the Insta-obsessed glitterati that shop for their brand of stylish apparel. If you know your customer base is using lingo, jargon or even memes to talk about the things they love, you would be smart to utilize it in your product description pages.
B. Witching Bath Co.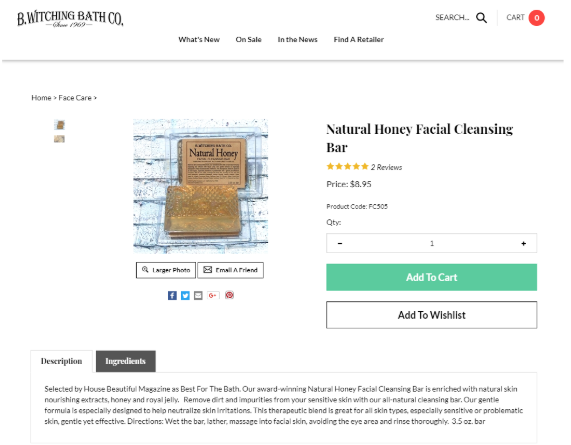 Product Description: Selected by House Beautiful Magazine as Best For The Bath. Our award-winning Natural Honey Facial Cleansing Bar is enriched with natural skin nourishing extracts, honey and royal jelly. Remove dirt and impurities from your sensitive skin with our all-natural cleansing bar. Our gentle formula is especially designed to help neutralize skin irritations. This therapeutic blend is great for all skin types, especially sensitive or problematic skin, gentle yet effective. Directions: Wet the bar, lather, massage into facial skin, avoiding the eye area and rinse thoroughly. 3.5 oz. bar
Why we love it: You know exactly what the facial cleansing bar does and are even given directions on how to use it. One thing that is particularly worth noting is B. Witching Bath Co.'s grammatical correctness. No one wants to purchase a product from a site when its descriptions are covered in sloppy grammar and spelling errors.
Custom Biogenics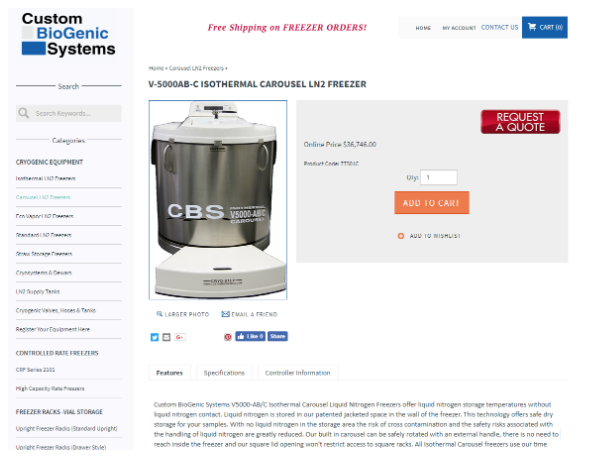 Product Description: Custom BioGenic Systems V5000-AB/C Isothermal Carousel Liquid Nitrogen Freezers offer liquid nitrogen storage temperatures without liquid nitrogen contact. Liquid nitrogen is stored in our patented jacketed space in the wall of the freezer. This technology offers safe dry storage for your samples. With no liquid nitrogen in the storage area the risk of cross contamination and the safety risks associated with the handling of liquid nitrogen are greatly reduced. Our built in carousel can be safely rotated with an external handle, there is no need to reach inside the freezer and our square lid opening won't restrict access to square racks. All Isothermal Carousel freezers use our time tested and reliable 2301 controller with a dual temperature display, autofill and many additional features. Custom BioGenic Isothermal Carousel Liquid Nitrogen Freezers have an industry best temperature gradient that averages -193°C inside the storage area.
Why we love it: For a company that deals in complex, hi-tech cryogenic equipment, it's important to make sure you provide all relevant information in your product description. Custom Biogenics is a great example of a company that is going out of their way to make sure they've got ample information on this freezer, which has the potential to be a confounding and confusing product purchase online.
For this particular product, they provide 150 words in their product description which lays out specs and provides valuable information on the product use and maintenance. It's basically a user manual for their product.
The Sausage Maker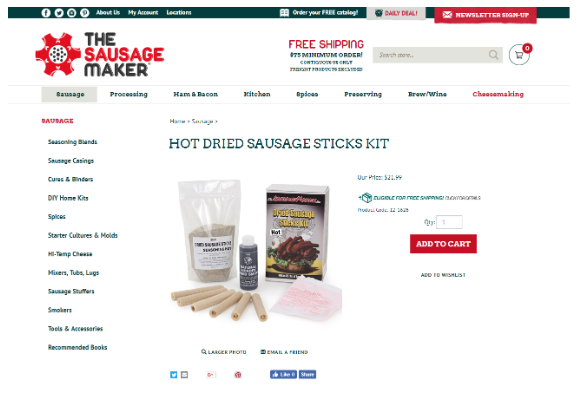 Product Description:
With the proper ingredients, success comes naturally. Here's everything you need to make a distinctive tasting sausage stick that will be sure to tingle your taste buds. Comes with complete instructions.
Kit consists of:
• Dried Sausage Sticks Seasoning
• InstaCure Powder #1
• Hickory Liquid Smoke
• Collagen Casings (19 mm)
Makes 25 Lbs.
Why we love it: Judging by the quality and variety of the Sausage Maker's catalog, they makes no bones about being the go-to supply for home sausage maker, butchers and meat enthusiasts. However, if you scroll down to get details on one of their products, you'll find a voice that is approachable, funny and delightfully off-beat. The Sausage Maker is a great example of a company having fun while being informative and trustworthy.
**Got tips for writing the perfect product description? Share in the comments section below!**F