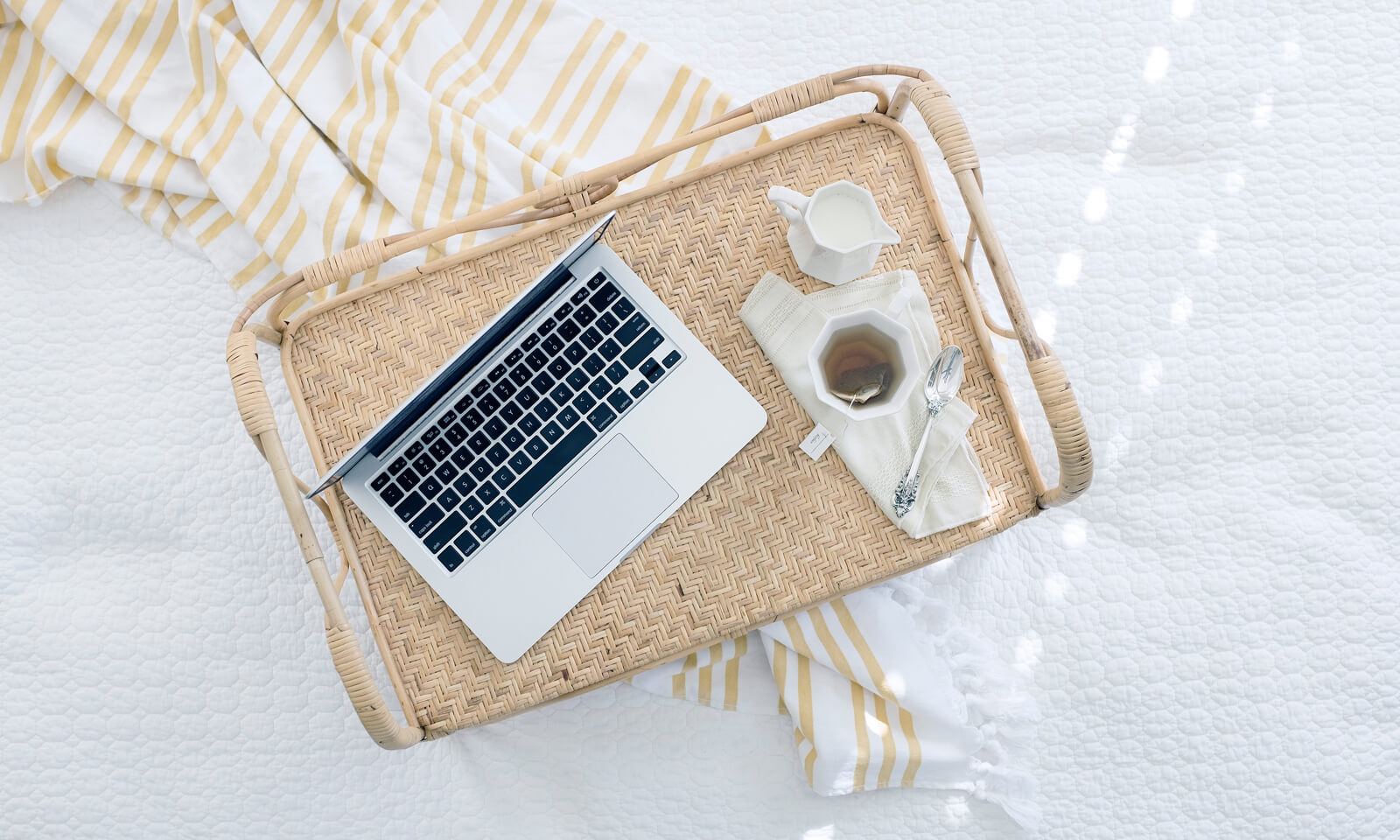 Let's face it, working from home is awesome. One of the biggest perks of being your own boss is the ability to work from any location at any time. However, the transition to a remote working environment can be tricky, especially if you're new entrepreneur.
Whether you are starting a business or working remotely at your current job, here are important habits and tools to help you create a productive and happy work-from-home environment:
1. A Creative and Comfortable Workspace
One of the most important tools for the remote entrepreneur is a welcoming and inspiring workspace. Because some or most of your work will be done at home, it's important to dedicate an area of your house or apartment to uninterrupted and focused work. Creating this space solidifies the separation between work and home, helping you get more sh*t done.
Once you find a space, make it your own! We love finding inspiration on blogs and Pinterest. After finding a style, invest in a desk, organization tools and a few artistic pieces that inspire you. And don't forget about your sitting or standing space! Several studies warn against prolonged sitting and a sedentary lifestyle. To combat this and keep your energy up during the day, think about investing in a ergonomic chair or building your own standing desk.
2. Apps for Remote Communication and Project Sharing
Technology is awesome for so many reasons, one of which is the ability to effectively communicate remotely with free or near-free tools. If you're running a startup, it's unlikely that you have a large team, but you may still need to keep in touch during typical work hours for questions and advice.
For fast and free messaging for small teams, we recommend Slack as it allows you to share files, saves your recent messages and integrates with services like Dropbox and GitHub. Another great practice is to create documents, spreadsheets and presentations in Google Docs. This allows you to easily share files with multiple individuals and allows for edits without saving and sending a document back and forth.
To showcase and share designs and prototypes across multiple teams, we recommend InVision. This excellent tool provides a space for team members to easily review different design options and provide feedback, and it's linked with several apps — such as Photoshop and Slack — for added efficiency.
Finally, Asana is a user-friendly option for all your project management needs, and is free for up to 15 team members. Asana makes it easy to create projects, tasks, conversations and calendar views and share them across team members.
3. A Focus on Productivity
When working outside of an office, efficiency is your best friend. When you don't have to hit a set number of hours behind a desk, you can focus on producing quality and efficient work. Evernote is a popular productivity choice, allowing you easily save and store important information, take notes and and easily use across multiple devices.
For the calendar junkies out there, your new best friend is Sunrise. This easy-to-use app connects with all major calendar services and stores them in one place. The app can also be used across multiple devices, so you can stay up to date with all your important meetings!
One of the best ways to get focused and avoid interruptions is to turn up the tunes. Whether you want a mood boost or a playlist to help you write content, Spotify has got you covered. Search your favorites artists or browse hundreds of playlists based on your mood. Our favorite productivity-boosting lists are Deep Focus, Creativity Boost and Your Favorite Coffeehouse.
4. Time for Breaks and Refreshments
Even the most productive entrepreneur needs to step away. If you are constantly focusing on work, your creativity and happiness will suffer. It's important to give yourself a break to recharge and enjoy a refreshing podcast or beverage.
Studies continue to prove the effectiveness of meditation to improve your mood and health. Headspace is an incredible app that breaks down the major ideas of meditation with guided lessons.
Another great way to take a break from work is to get outside for some fresh air! Thirty minutes of physical activity will help to keep your mind and body working effectively. To help motivate you, choose a favorite audiobook or podcast to listen to during your break.
Although the coffee shop environment is a wonderful break from the house or apartment, buying a latte or cappuccino every day can get very expensive. To stay cost-effective, consider investing in a French press and make your own delicious brew at home!
Adjusting to a work-from-home environment can be challenging, but it is completely worth the effort. Saving time on a commute and pointless distractions will only help you create the best version of your business.
Follow these tips to get started and share your top WFH advice in the comments section below!