CASE STUDIES - Boat Lift & Canopy
Boat Lift & Canopy
Boat Lift & Canopy sought assistance growing traffic on a site with a large number of products and categories. After working with Volusion Marketing Services, they saw increases in traffic, revenue and engagement.
Work with us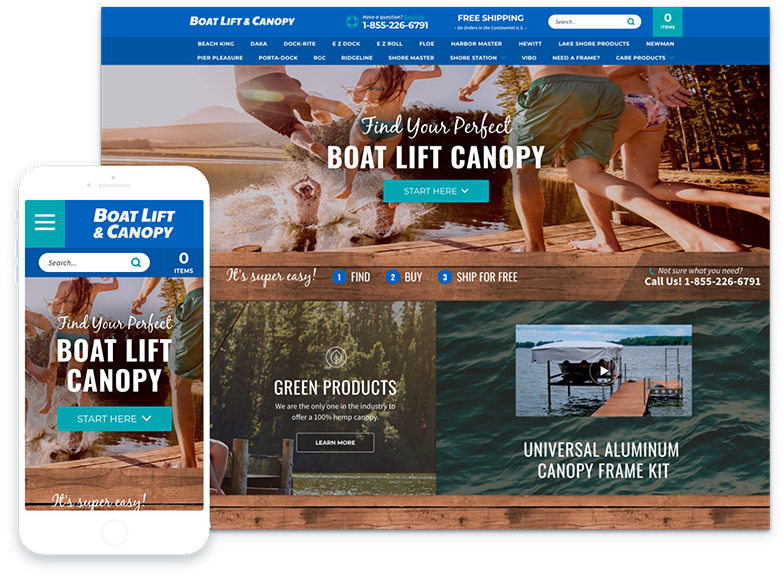 OVERVIEW
As a major provider of boat lift canopies at affordable prices, Boat Lift & Canopy approached Volusion for an online marketing strategy that would bring in traffic and revenue.
Boat Lift & Canopy strives to create the highest quality boat lift canopies on the market at the most affordable pricing. Their products are designed to fit the most popular brands and their use of long-lasting materials keeps boats in great condition.
Website
www.BoatLiftAndCanopy.com
Marketing Package
Advanced SEO
Primary Goal
Grow organic traffic
Results
+497%
in organic site sessions
+1,010%
in revenue from organic search
+840%
in organic transactions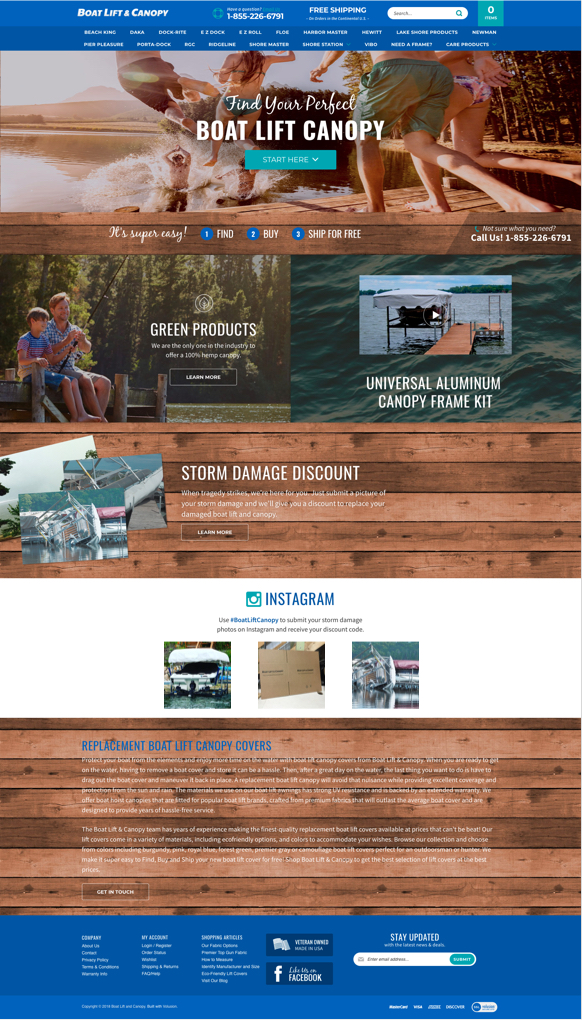 Boat Lift & Canopy's main goal was to build their organic visibility to increase traffic and revenue.
Challenges
Boat Lift & Canopy first reached out to Volusion Marketing Services in 2015 for assistance in growing their traffic from organic search. Their biggest SEO challenge was the sheer volume of products and categories on the site because every make and model of boat had its own page. This industry is also extremely competitive with many established competitor sites.
Our Strategy
Our team implemented navigation and organizational changes, as well as a multi-tier content strategy for better relevance and authority. The team suggested an Advanced SEO package to tackle these tasks.
Specifically, Volusion Marketing Services focused on:
Creating on-page tags and content for increased relevance for important keyword phrases
Optimizing FAQ articles in order to capture more traffic during the research stage of the buying process
A comprehensive content strategy to increase authority and keyword relevance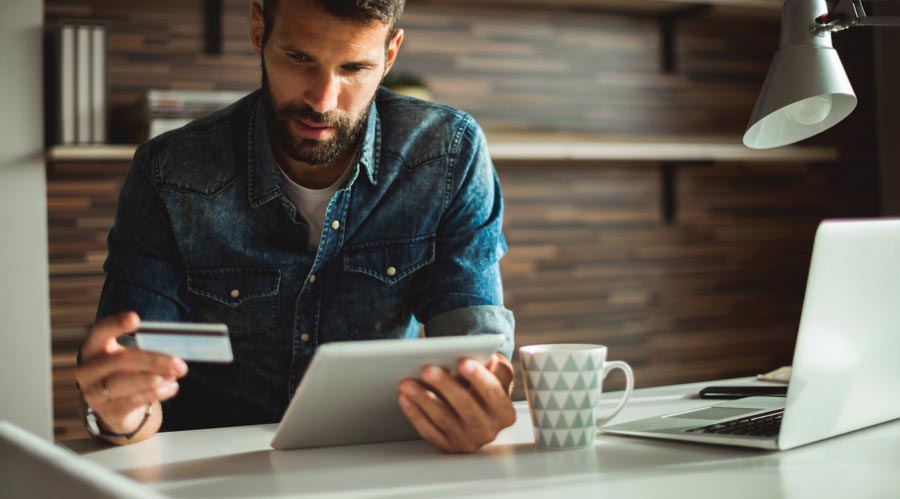 Free 14 Day Trial
Start Selling Today
We've got everything you need to build, sell and
grow your very own online business
Start For Free
Explore More Case Studies
STAY UP TO DATE
Sign up for the Volusion Newsletter
Get more industry inspiration, tips and exclusive
offers sent straight to your inbox.
Thanks for signing up!
Your request has been successfully submitted.