Volusion vs. Etsy
Don't pay 5% Per Sale.
We Charge You Zip. Zero. Nothing.
Start My Free Trial
👍 Try it for 14-days. No credit card needed.
No transaction or listing fees, ever
Fully customizable web designs
24/7 personalized support
Sell directly from your site --
without distractions from competitors

5% transaction fee, 20¢ listing fee
Unable to customize Etsy store design
No human support, only online help
With thousands of sellers on Etsy, your
products can be easily overlooked
What is Volusion?
Volusion is an all-in-one ecommere platform that enables you to set up a store in minutes, with features that will keep you selling for years to come. Here are some of the most notable features Volusion merchants have at their fingertips: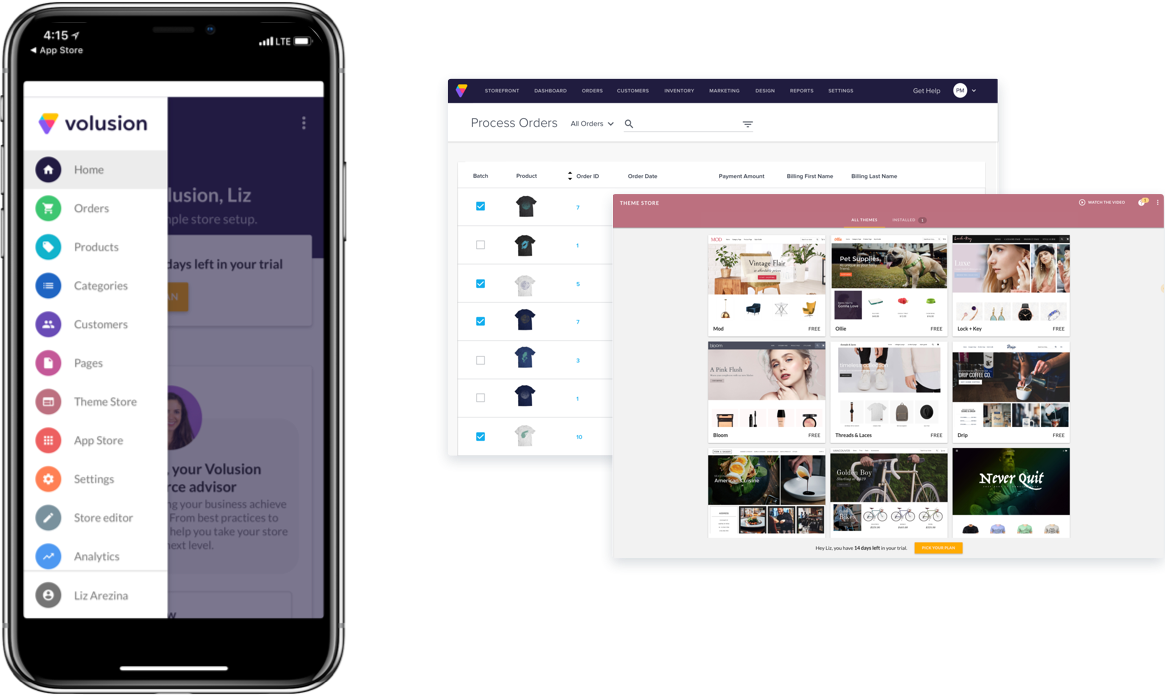 Why Volusion?
No Transaction or Listing Fees, Ever
When we say "no transaction or listing fees," we mean it. Unlike Etsy, Volusion doesn't penalize you for your success, which allows you to be more profitable.
TESTIMONIAL
There are listing fees and final sale fees on Etsy, as well as the PayPal processing fee, which can really add up if you list a lot of items.
Nidhi, Etsy Seller
Make Your Website Your Own
Fully customizable
design themes
LEARN MORE

24/7 U.S.-based
customer support
LEARN MORE

Insights to your
customers' information
for additional marketing
LEARN MORE

Built-in marketing tools
for email, social media
and search engines
LEARN MORE

Make Your Website Your Own
Unlike Etsy, Volusion offers a complete ecommerce solution so you can quickly start selling on a website that's truly yours.
Volusion offers hundreds of free, fully customizable design themes to build a brand that's as unique as your handmade products. Not only that, you also have the freedom to sell and market your products everywhere, including Facebook, Google and Amazon.
TESTIMONIAL
There is a limit to how much personalization a customer can do through an Etsy listing. Whereas on my own website, I can make the experience much better for my customers.
Jennifer, Former Etsy Seller
Personalized Support Every Step of the Way
Here at Volusion, our mission is to ensure your online business is a success. That's why we're here to help every step on the way, offering 24/7 support from our team of ecommerce experts. Based in Austin, Texas we have over 450 team members fully dedicated to supporting your business.
TESTIMONIAL
Volusion has incredible customer service. We know they will always be prompt to help fix any problem or answer any question in a kind and thorough manner.
Natasha, modstraps.com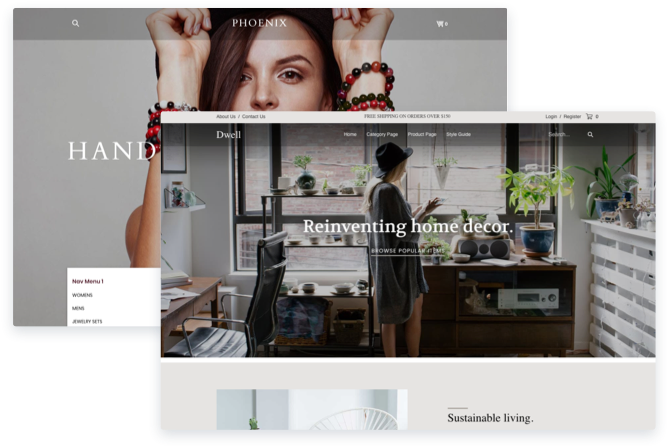 Shine the Spotlight on Your Product
With more than 30 million items listed on Etsy, it can be next to impossible for shoppers to find your products among thousands of listings. By building an online store with Volusion, you can place your merchandise front and center — and customers won't be distracted by your competitors.
TESTIMONIAL
As sellers, we were lucky in the old days that Etsy helped us get our businesses off the ground and reach a wider audience, but now it just seems like you list something and it gets lost in the noise.
Sadie, Former Etsy Seller