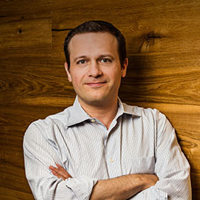 Joseph Essas
CTO @ OpenTable
Board Member @ Volusion
With over 20 years of experience in IT Industry, in various high-tech management positions (CTO, CPO, Chief Architect, and VP of Engineering), Joseph brings invaluable expertise to the Volusion board. Currently serving as the CTO of OpenTable, he focuses on leading Engineering, Operations and Data Science teams to connect diners and restaurateurs.
Prior to joining OpenTable in 2012, Joseph served as the Chief Technology Officer for eHarmony where he was responsible for overseeing and guiding the technical development, operation and growth of the company. Previously, Mr. Essas served as Vice President of Engineering of Yahoo! where he managed engineering teams for the search marketing division. Mr. Essas attended Jerusalem College of Technology.
Join the team

.
Help us build the infrastructure behind some of the most successful ecommerce stores online.
Volusion
Try our award-winning ecommerce software to build your online store and sell more! Trusted by 40000+ businesses. FREE 14-day trial, no credit card required.
1835 Kramer Ln A100
Austin
TX
78758
United States