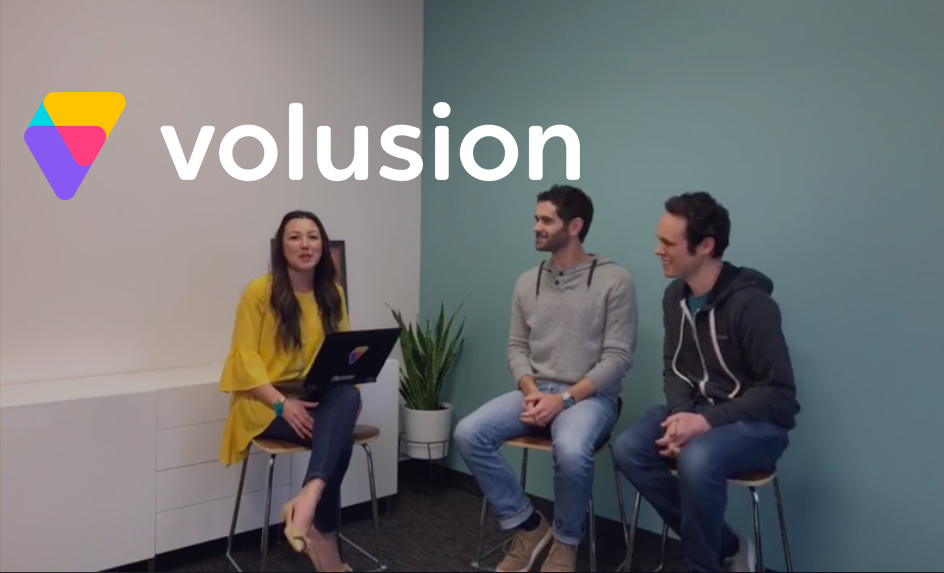 As we settle into the New Year and begin to plan out goals for 2018, we wanted to reflect on all of the milestones Volusion experienced last year. 2017 was a huge transition year for the company. After selling Mozu and renewing the mission to focus on small and medium-sized businesses, Volusion has made big strides to remain a fierce competitor in the ecommerce realm.
From a full rebrand to the launch of a new ecommerce experience (V2), the muscles behind Volusion are just getting warmed up. "We just want to deliver more success for our merchants as we did last year, and just keep doing it because that's what really matters," Volusion founder and CEO Kevin Sproles said.
We took time to catch up with our CEO Kevin Sproles and our Product Manager Jonathan Turfboer during our latest Facebook and Instagram live stream to get the details on what is coming down the pipeline for the platform early this year.
New Features
To start, there's going to be a plethora of new features coming out on V1 and V2 this year. We've outlined some of the top additions down below, but be sure to watch the video to hear more about the rest!
1. Drop Shipping integration. Volusion is working to create a dropshipping integration that will bring over 30,000 high-quality, US manufactured products for Volusion merchants to sell on their V2 stores.
2. Developer Center. For the first time ever, Volusion will be launching a developer center for V2. This will allow merchants to start enabling custom development on their stores and permits third party developers to build integrations with other services and other extensions.
3. Mailchimp integration. In the next few weeks, Volusion will be launching a Mailchimp integration for V2 customers. Merchants will be able to automatically sync customers to their Mailchimp account to build more dynamic email marketing campaigns, as well as customize order notification emails.
4. Integrated blog. Content has never been more important to ecommerce businesses for a variety of reasons. From improving SEO to enhancing credibility and visibility, blogs provide customers with a wealth of information. The product team is working to release a fully integrated blog feature on V2 in the near future!
5. Fraud Score. This new tool is already live on the V1 platform, so if you haven't looked at it, we definitely encourage taking a peek Fraud Score enables merchants to detect suspicious orders and learn more about where their customers are coming from, right down to the Google Map.
6. Shipping labels. Shipping label printing is coming to V1! The new feature aims to give merchants better rates on printing shipping labels. Instead of paying the premium rate at USPS, merchants will be offered a discounted rate through Volusion.
Volusion Payments
In addition to a bunch of new features, Volusion also announced a plan to improve its Merchant Services program. A few weeks ago, the company announced a new Payments partnership with WePay, powered by Chase. The Chase partnership aims to bring better credit card processing rates and a more integrated experience to merchants. "Merchants will know the status of their orders getting directly deposited in their bank accounts and next day settlements will be offered," Sproles said. "It will be so seamless and easy to use!"
If you want to know a bit more about the Volusion Payments partnership with Chase or any of the other features launching this year, head on over to our Facebook page to watch the full video, and don't forget to like our page for more updates.
With the success and momentum from 2017, Sproles and the rest of the Volusion team are hopeful for a great year.
"Congratulations to all of our merchants on 2017," Sproles said. "It was an amazing year and we're going to make 2018 even better together."
Have any questions about Volusion's 2018 goals? Let us know in the comments!