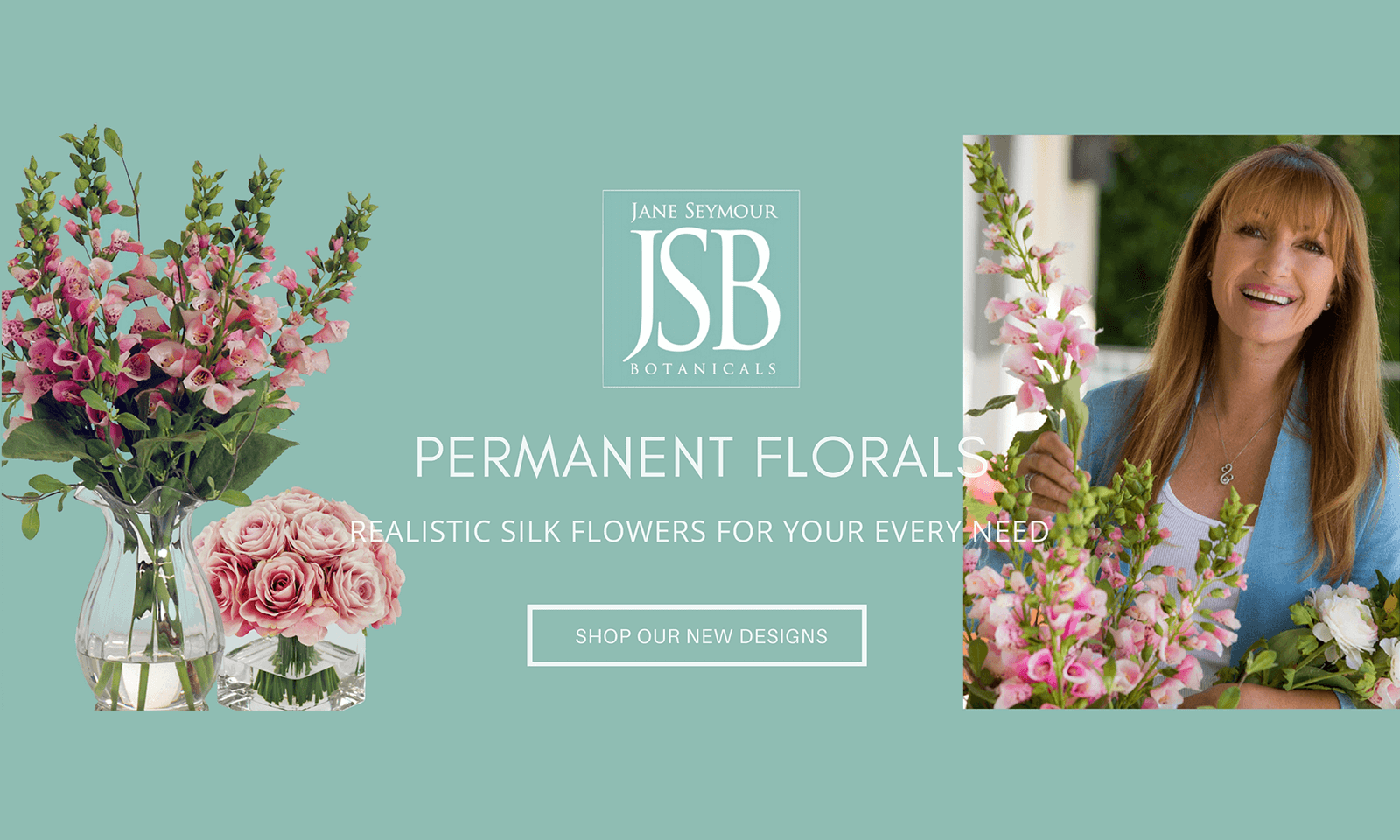 Artificial florals and permanent botanicals have become a hot trend for many homeowners and interior designers looking to add a chic sensibility and some warmth to living spaces. With Volusion's all-in-one ecommerce software, Jane Seymour Botanicals blossomed into a lucrative ecommerce business. Enlisting the help of several long-time home décor and floral design veterans, Jane Seymour Botanicals gained a reputation for creating gorgeous artificial floral arrangements that were virtually indecipherable from real flowers.
Each petal is curled, styled and painted by hand to create a realistic effect that can't be found elsewhere. The amazing talent and precision used to craft these artificial arrangements even earned recognition by the famous actress, Jane Seymour, and led to her professional endorsement.
"Jane had amazing success with licensing and design of jewelry, based on her painting of two open hearts and the philosophy behind that painting," founder Alan Macomber said. "Because the jewelry licensing had done so well, she felt that should expand her interest in home decorating and home fashion into a similar licensing arrangement. As the leader in the best quality permanent florals in the home decor industry, our company was recommend as the obvious choice for providing the products in that category. Our initial relationship with Jane was based on the wholesale side of the industry, but we felt that a consumer-facing web site in the permanent floral category would work very well, and asked Jane to go into business with us on that side as well."
And with that, Jane Seymour Botanicals opened its ecommerce doors in February of 2011, on Ms. Seymour's birthday. Since then, its wide range of permanent botanicals have gained attention from designers, enthusiasts and consumers alike.
In the following Q & A, founder Alan Macomber discusses how he got into the business, what makes these florals so spectacular, and how you can spruce up your home or office space with artificial flowers.
Q: How did you get into the flower arrangement business?
A: Everyone involved in our company has an extensive background in either the home decor industry on the wholesale side, or in actual floral design at the retail flower shop level. The company has its roots in the wholesale and importing side of the industry going back to 1978. The transition to retail e-commerce sales directly to the consumer was a natural one, and our web site was launched on Ms Seymour's birthday in February, 2011.
Q: What do you think makes your arrangements so special?
A: Basically, our designs are so special because of two main things. First, the talent of our designers. Their lengthy experience in the industry and their painstaking attention to details and trends of what is going on in home fashion are the basis for the outstanding designs they create.
Second, the quality of the permanent floral components we use - the flowers used in our designs are the best quality in the industry, manufactured using many hand-craft steps as opposed to machine-driven automation. They are made using hand-curling of the flower petals, hand-assembly, as well as hand-painting and dying of the petals, stems etc. The process takes much longer but captures the true "spirit" of the flower and that's why they look as beautiful as they do, and why they look virtually identical to the fresh flower they were made to imitate.
Q: Which flowers are most popular for summer?
A: This varies depending upon the region of the country you're in. Magnolias are super popular in the South because they grow there, of course. But at the same time, peonies only grow in the cool moderate Pacific Northwest climate mainly, and yet they are popular everywhere. Because we offer permanent versions of all major types of flowers in our many designs, the regional and seasonal variations are not that big of a deal, because our designs last through EVERY season. In general, the top-selling flowers on our website are peonies, hydrangeas, roses, magnolias and orchids (not specifically in that order, although a peony bouquet in a glass vase is our No. 1 all-time best-selling item).
Q: Do you have any decorating tips for those looking to brighten up the interior of their store or office for the summer?
A: Go with brighter colors to reflect what's going on in nature outdoors. Summer blossoms tend to be the more brightly colored ones. A big trend in terms of home decor color right now is of course orange, so you can't go wrong there!
Q: Where are some ideal places to put flower arrangements?
A: People like to place our designs in all kinds of locations throughout the home or office, but the most popular tend to be:
A table as a centerpiece- Always choose a design that is created specifically to be a centerpiece, so that it looks good when viewed from any angle.
A side table or console table in an entry way or hallway- In this situation, with the table placed up against a wall, you can use what we call a "one-sided" design since it will only be viewed from one side, not both front and back. Size and height of the design can vary depending upon the space available to you for the arrangement in that location.
Accent placements- Mini orchid pots or other small designs can easily brighten things up. Anywhere that you have a 5 or 6-inch square empty space on a desk or shelf will work. Potted permanent orchids in particular work great for this as they tend to have a nice height (typically 24" to 28" tall), but only have a "footprint" of 5 or 6 inches around at the bottom of their vase or pot.
Q: How does adding a floral arrangement or a green plant help brighten up an office space?
A: Faux florals are an excellent choice to add color, even if it's just greenery, to an office or work environment. They look great even in locations that don't get enough light to work well for a live plant and, of course, they never need to be watered!